---

Diary of an Average Australian. Updated most days.
Latest posts: • Learning to drive • Old photos from March 2007 • Comeng train fleet to be upgraded • SoFrank: southern end of the Frankston line level crossing designs announced • Night Network: opportunities to make it better • Cheltenham and Mentone: rail going under road • Save the trees, or save the world? • Old photos from February 2007 • Walking in suburbia • V/Line Geelong and the ?good old days?


Guide To Australia - The answers to all those niggling questions you've always had. Is there really a McDonalds on top of Uluru? How do you shotgun a Tim Tam? Ten things you need to know when visiting Australia.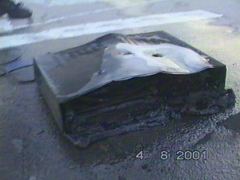 How to destroy your video - Consumers' revenge. My VCR had annoyed me for too long. So one Saturday afternoon, aided by various assistants, I comprehensively destroyed it, using a combination of toast, dishwashing liquid, a hammer, a lake, a car, a pick axe, and a small explosive device. GET THE T-SHIRT!


Toxic History of the World . 455 BC: The Parthenon is proposed, but fails to get planning approval. 14 AD: Augustus dies. The Romans begin advertising in all the fashionable journals for a replacement. "Emperor wanted. Preferably mad. Must look good in a laurel wreath and have own toga."


Great Vomits of the Twentieth Century. Vomit stories from readers (and locations) the world over - submit your own!


Shakespeare. What if Romeo had gone to the wrong balcony? MacDuff has Macbeth's head; how can he shake the cops off his trail? Julius Caesar should beware the ides of March... but just what is an ide, anyway? And now you can get Shakespeare clown nose merchandise!!!



Doctor Who. Will the Doctor and his assistant with the very silly name convince the humans to trust them, and somehow defeat the Unrealistatrons from Mothball 6?


The Year 2031. Nothing much has changed really - people still don't know how to program their videos. But NASA is getting ready for the first manned mission to Venus - sponsored by Coke.

Custard Television. Everything you need to know about TV and Video. What do the TV stations really mean in their promos? The latest informative programme ratings.

USA holiday. That Grand Canyon really is quite big. Have a laugh at the alleged Australian food at the Outback Steakhouse. And try and wrap your head around the idea of an entire nation that doesn't know metric.

Computing Dictionary. RAM (v.) - what you do when the plug won't quite fit. Why beta software that renders your computer unbootable isn't such a great idea. And what's the real truth behind screen savers?
Ron & Jeff in their struggle with life, religion, charity and daytime television. Is it really a good idea to hail a taxi by jumping out in front of it? What is Christmas, anyway?

Order Of The Skint. Let us predict your future and take all your money. And discover the miraculous powers of Bowen Nurk Power!


Life in the Office. How did your desk get that messy? When they re-organise the office, how do you make sure you don't end up sitting next to someone you hate?

Wallpaper. Grab a few classic Custard images to harass your colleagues and your mum. See our version of the healthy eating Food Pyramid. Guard your computer with Safe-T-Man.

Back Issues: Almost seven years of TCWF, in all their pre-Web plain text glory!
---
Other Toxic Custard stuff:
At this point it's probably worth mentioning:
Toxic Custard is best viewed using a combination of eyeballs and a browser that supports tables, table cell colours, fonts, animated GIFs and all those other funky things. Grab the latest version of Mosaic InterNetscape Explorer.
Toxic Custard is Copyright © 1990-2004 Daniel Bowen, Melbourne, Australia. Please read the Disclaimer. No, really. It's funny. Honest.